Glamour, beauty, and sophistication will be the central trends for weddings in 2013. Nods to old-hollywood opulence,  soft feminine pallets, and formal tradition will be seen from the runway, to the table scape, all the way to the sweets. 2013 promised to be the year of ultimate beauty and detail!
2013 Bridal Gown Trends: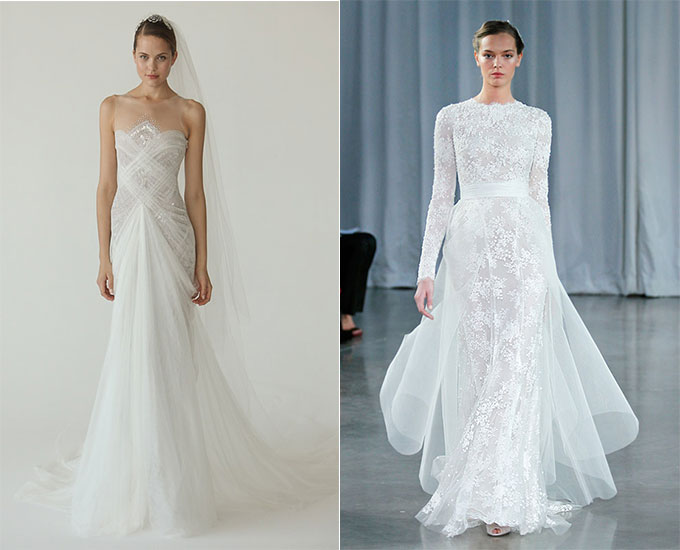 Illusion Necklines – One of the hottest trends for bridal gowns in 2013 will be the illusion neckline. This silhouette has the feel of a strapless gown, but provides a bit more coverage for the bride; it will also help your dress stay in place while you dance the night away!
Sleeves – In a post-Kate Middleton wedding world, it's unlikely that sleeves will be disappearing from the bridal shops any time soon. The wonderful thing about these new long sleeves is how cleverly designed they are. Most of the fabrics used are transparent so they don't look or feel heavy and the brilliant touches of embellishment add a whole new twist of formality and design to your wedding-day look.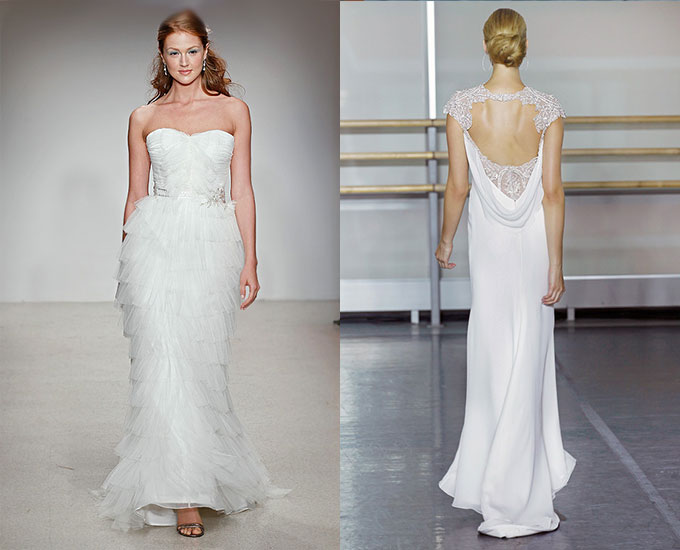 Tulle – Goodbye lace, hello tulle! Tulle has undergone a transformation this season showcasing new narrow shapes covered in layers of tulle or fully-fashioned in tulle.Three dimensional textured ruffles, swirls, free-form flowers and shredded layers appeared in tulle. Simple light tulle layers flowed over gowns and appeared as capes for big dramatic moments. We love tulle for its sheer beauty, its delicacy and for its mystery as it covers and uncovers all at once.
Bare Backs – Time to toss those brassieres out the window ladies! Designers took a backwards plunge this season with the most naked, open, draped, cutout backs we've ever seen in a single season. Whatever clever and sexy way designers manage to bare your back, just make sure it's ready for all that exposure. Tone your back muscles with yoga and weights. And remember, if you're going backless on the big day, lose the bra several hours prior to be sure no phantom straps ruin the view.
*Top Left: Marchesa, Fall 2013. Top Right: Monique Ihuillier, Fall 2013. Bottom Left: Alfred Angelo, Fall 2013. Bottom Right: Rivini, Fall 2013. 
2013 Theme and Decor Trends: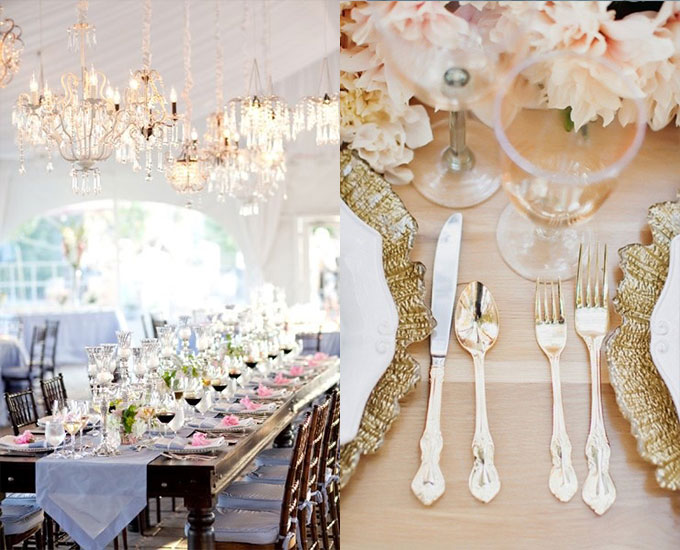 There is a strong movement towards sophistication and black-tie formality with bridal themes and decor. Although 2013 weddings promise to be ultra-elegant they won't be too stuffy and serious. Look for the return of chandeliers, gold charger places, and lots of crystal; not to forget candles, candles, candles. Softer and more neutral colour pallets will take a strong hold in 2013. Think: taupe, ivory, blush with pops of grey, black, and metallics to compliment.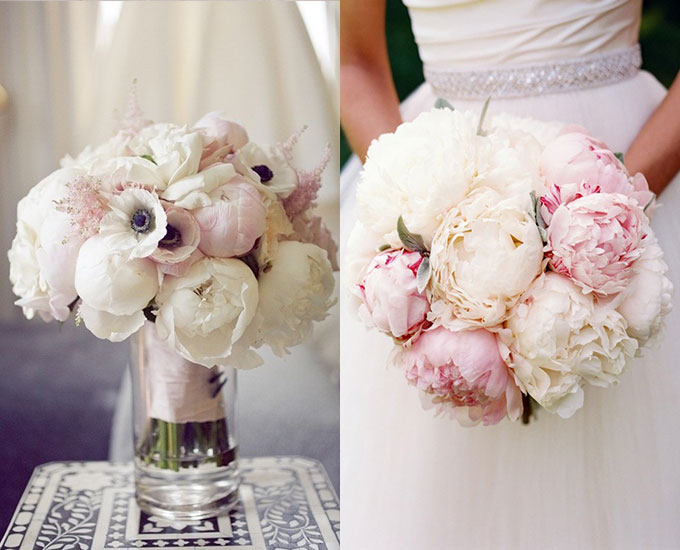 Floral trends will also be on the softer and fuller side of the garden. Gone are the days of single-stemmed wild flowers in bud vases and forget the over-the-top, mile high centerpieces. They have all been replaced with long and low garland-styled arrangements down the center of full length reception tables, heavy with 'English Garden' inspired opulence featuring soft, lush, and romantic peonies, hydrangeas, and garden roses.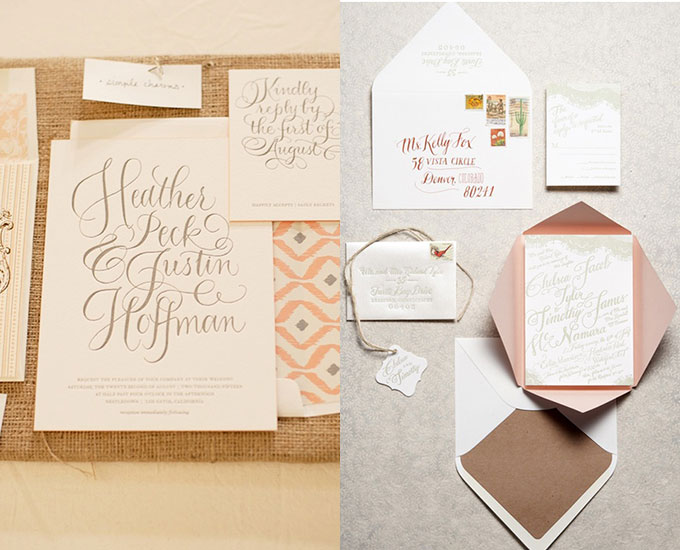 Formality and sophistication will be most evident in the return of more formal invitations and wedding stationery. Watch for a heavy push into the use of letterpress, foil stamping, calligraphy, and laser cut invitations. Each option adds a very fun pop without being too glitzy and over the top.
2013 Food and Sweet Trends: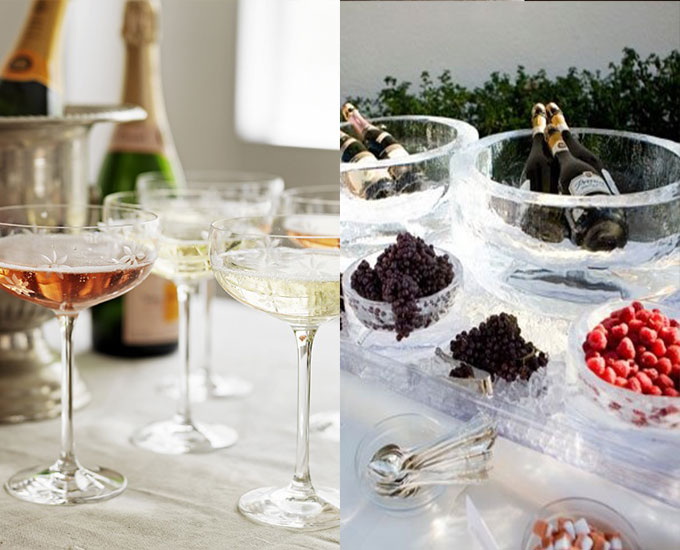 Gone are the days of the mini-simple-foods (ie: mini burgers, fries, and pogos) and food stations, 2013 is going to be all about returning to dining formaly with a major trend back to sophisticated plated dinners. Designer cocktail and artisanal drink stations are going to be a great addition to your 2013 wedding; think infused champagne cocktails and liquor bars.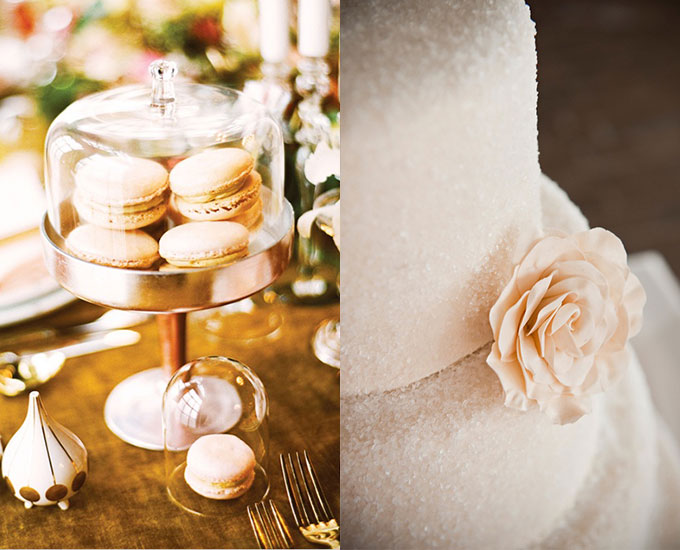 Those with a sweet tooth, take heart. Signature dessert and sweets tables are here to stay, with a slight twist. Informal cupcakes will be replaced with handcrafted mini cakes and petit fours: meringues, French macarons, fudge, tarts, and pastries. Wedding cakes will remain oh-so-stylish in 2013, featuring clean and modern designs with tall and slender single and double tiers. Most will include one amazing pop colour and embellishment such as a bow, monogram or over-sized flower.
We continue to feel very excited by the old-world formality, glamour, and sophisticated trends in 2013 and look forward to working with clients interested in featuring black-tie inspiration to their wedding.