Have you seen the dress trends that designers have created for 2018 Spring and Fall collections? It's stuff out of dreams! Here at KEP, we have narrowed it down to 5 wedding dress trends that we think we'll see the most this wedding season. We know you won't be strutting down the runway, but an aisle is close enough, right?!
Sheer Corsets
What a great alternative to the naked dress look we saw everywhere last year! This trend is perfect for a bride who wants to look daring, but also wants a touch of modesty. A sheer corset gives brides that tasteful sex appeal and by adding a full skirt to the silhouette of your liking, you are able to achieve just that.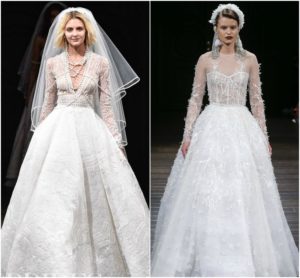 Bare Shoulders
This trend has been everywhere the past year and it isn't going anywhere! Off the shoulder bridal gowns are a massive trend that we will see again this year. The twist, "the cold shoulder" is back (AKA: shoulder cut outs) and hey, we don't hate it!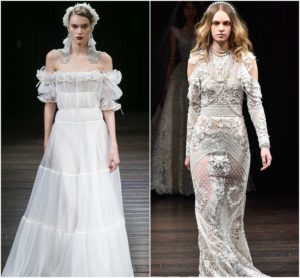 Short
Are you a bride who is getting those wedding workouts in? Want to show off those beautiful legs you've been sweating for? Mini's and midi's – oh my! Mid length tea dresses and leg-baring mini's are all the rage this season.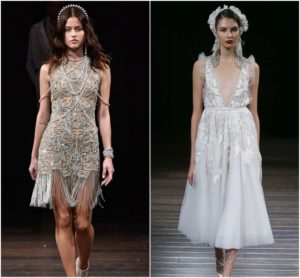 Capes/Capelets
Every woman wants to feel like a princess on her wedding day and adding a cape or capelete makes this dream a reality. This accessory adds dimensions to your dress and gives off ethereal vibes. This piece is also a great alternative if you're skipping a veil! The cape/capelet also allows you to pull off an easy outfit change for your upbeat reception. Quick outfit change, anyone?!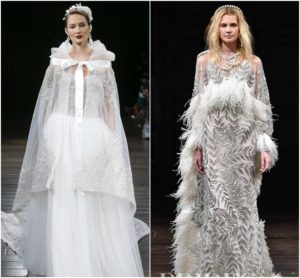 And saving what we believe is the best and most fun trend for last….
Wedding Jump/Pantsuits
This is by far one of our most favorite trends for 2018. Jumpsuits and pantsuits are everywhere. They're comfy and versatile, and if you're lucky, they have pockets. They're also perfect for any bride who is eloping or keeping your ceremony quiet at city hall! However, if you're a bride who still wants the traditional modern wedding gown, add a detachable train for your ceremony to dress it up and remove it later to get down on the D floor.
These five trends stood out the most among designers during Spring and Fall 2018 bridal fashion week. There were also many notable other trends that we swooned over such as halter necklines, ball gowns and lots and lots of fringe.Time to shock your guests and your forever-to-be with a fashion forward frock for your wedding day! We cannot wait to see what this wedding season brings with these wonderful trends and are very excited to see what's next for Bridal 2019!
Until next time,
xo KEP
* All photos courtesy of Naeem Khan's Spring & Fall collections via brides.com