When choosing your wedding accessories keep these helpful hints in mind while trying to figure out what to do and what not to do. No matter what your wedding style may be, you can use these do's and don'ts to ensure you accessorize perfectly on your big day!
Don't Overdo It:
Most women love jewelry, some women love jewelry too much! The biggest wedding accessory "don't" is: don't overdo it! Make sure to fight the temptation to dawn your entire jewelry collection, no one wants to look like a flotilla. If your gown is full and heavily embroidered, wear light pieces that compliment it rather than a chunky necklace and arm bangles.  When in doubt, seek the opinions of trusted friends to edit your look and remember the simple rule of "less is more"; it will leave you looking elegant and sophisticated.
Less doesn't need to be boring. If you prefer a more classic look for your ceremony but want to add some character for the reception, try picking one or two statement pieces too add to your wedding look. Change out your dainty pearl earrings into something with more personality, like a statement-making chandelier pair of earrings or add some bangle bracelets. Don't be afraid to change your accessories but remember to coordinate your jewelry to your overall look.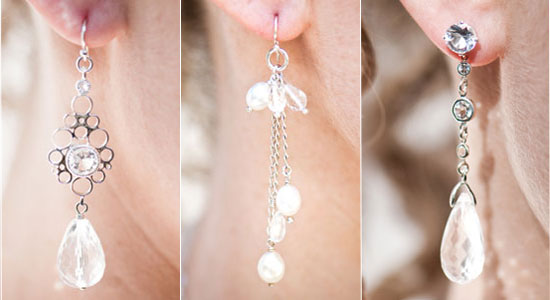 Don't Wait Until the Last Minute:
Your wedding accessories shouldn't be an after thought to your wedding look; begin looking and place any needed orders a month or two in advance. You will want to make sure you have left enough time to try your accessories on with your gown and make sure you have created your wanted look. If you are stuck for ideas, consult the professional input of the designers at the bridal boutique where you purchased your gown, they will be able suggest jewelry that will go best with your dress.
Do Personalize Your Accessories:
The last rule we have for you is: your jewelry, not only your dress, should be uniquely you. Incorporate your preferred metals and stones into a design that will flatter you and your gown. Custom jewelry and unique vintage pieces make fabulous accessories. If you are bold enough, include things that you love like: embellished headbands, crystal pins or flowers and feather headpieces.