As you most definitely already know, your wedding day is all about YOU! However, your guests did come from near & close and far & wide to watch you celebrate your love.. so they are pretty important, too. It's a generous host/hostess gesture to show your guests just how much you appreciate them attending your wedding and bearing witness to your happily-ever-after. Take some inspiration from some of these unique ideas for wedding favours!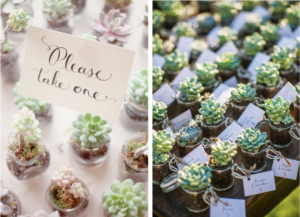 Succulents
They don't have to be succulents; they can also be little pine trees or orchids, or anything your heart desires! The point is for guests to nurture, plant and care for a plant that was given as a gift of love and life at your wedding! Everytime they tend to it, they will think of you and your continuously blossiming love. Bonus: make their gift part of the wedding decor by adding them as your name card holder!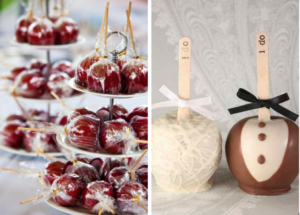 Candy Apples
You can't go wrong with this sweet treat! We've seen this numerous times as an element of the table setting during the reception and it's absolutely one of the best ideas! You know what they say about an apple a day…
Sunglasses
This is a very sweet gesture if your wedding is going to take place outside! Make sure your guests catch a glimpse of everything without the added leaning, moving around in your seat, the hands held above your eyes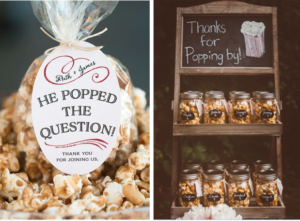 Popcorn
Gourmet popcorn is always a crowd-pleaser. With different flavour combinations and toppings, the possibilities are endless and there is something for everyone to enjoy! Bonus: your guests can take it home to enjoy and reminisce about your super fun wedding party!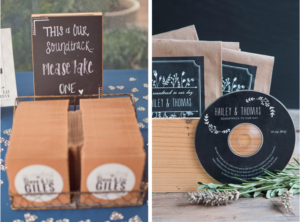 Wedding Playlist CD
I know, I know… everyone can be a DJ these days. However, nothing beats a good wedding playlist. Add a few of your favourite tracks that you think will get all of your guests groovin on the dance-floor and make sure your guests remember what a great time they had on your special day!
However you choose to thank your guests for coming to your wedding, just remember that they love you enough to want to take part in your special day! Don't take your guests for granted and remember to be grateful for all the love and support that you have in your life. Happy #WeddingWednesday!
**Photo Credits
Succulents: Simply Bloom Photography; Magnolia Rouge
Candy Apples: Pink Frosting UK; Weddings & Wedding Flowers UK
Sunglasses: Recipe Box EtsyStore; Happy Wedd
Popcorn: Evermine Weddings; Wedding Chicks
CD: Brideside; Evermine Weddings