"Something old, something new, something borrowed, something blue."
This traditional saying has been around for almost 200 years. Every human on the planet has most likely heard it, but do they know it's true meaning? This saying dates back to the Victorian era where it started out as a rhyme and has been modified over the years to become an important custom that many brides hold near and dear to their hearts.
Often, these four items are gifted to the bride prior to the wedding, but you can also own your day and creativity by finding your own pieces. Traditionally, all of the items hold a special meaning, and these meanings are part of the transition into married life. Something old represents the couple as they were in the past, and something new reflects their shared life together. Something borrowed is usually a token of good prosperity as it comes from a woman in the family who is already happily married, and something blue hopes to bring the couple fidelity and purity.
As with any wedding tradition, this one is also not mandatory to follow. If you'd like to see some fun and unique ways to tackle this tradition on your special day, keep reading!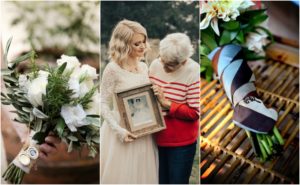 Something Old
Your something old can be a great way to pay your respects to a treasured family member. Even if they are not around to bear witness and share your special day, they can still be with you in spirit. It could be a family heirloom or piece that has been passed down through generations!
Lockets or pins attached to your bouquet, or even wrapping your father or grandfather's tie around the handle of your bouquet are examples of how to incorporate something old. Or how about going that extra mile and wearing your grandmother or mother's wedding dress yourself?! Even if their style wasn't exactly your style, there are many bridal shops that are able to incorporate specific elements you like about the old dress into your dream dress!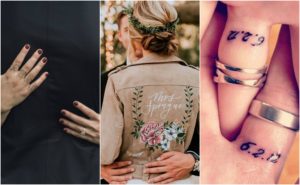 Something New
A huge trend we have seen lately are brides thinking outside of the box for their something new and we LOVE IT. For the more modern bride, or bride who is just looking for a unique idea, how about custom name rings, a custom Moto or jean jacket for when the night gets chillier or matching tattoos? The fun part about your something new is that you have entire freedom and creativity to come up with a small token of meaning that truly represents you and your future spouse!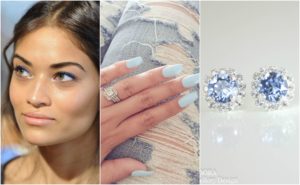 Something Blue
This tradition can be one of the harder ones to adhere to. The beauty of the colour blue is that there is such a vast selection of shades that even if powder blue doesn't work for your colour palette, then maybe a deep, navy blue will! Why not try subtle blue make up, nail polish, or blue jewelry? We think these are some fun options to make your something blue pop, while still maintaining the vision that you have for your day.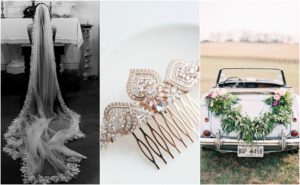 Something Borrowed
Your mother, grandmother or maybe even a close family member, will probably want to have a say in your something borrowed. So many of your loved ones will want to feel like they contributed to your special day in some way, and let's get real, that often involves clashing with your views. Always be appreciative of this type of loving help, but don't forget to stand your ground and choose something that holds meaning for you. Maybe you had your eye on your mom's veil, or your grandmothers heirloom hair piece, or maybe you've always wanted to borrow your grandfather's vintage car to take off and capture a few photos in. It's your big day you get what your heart desires.
All in all, this very old tradition continues to modify itself throughout the years. Whether you are a traditional bride or a more modern bride, the wonderful part is you can customize this tradition and incorporate it into your day however you see fit. The most important thing to remember when picking out all your items is: be true to you – it is your day after all!
xoxo KEP
Photos:
Something Old: via Loverly by Clare Barboza, Babble by Disney, Pinterest
Something New: Wedding Forward,  As/Is Buzzfeed
Something Borrowed: Daphne Newman Design, Top Wedding Sites, weddings with szasza via Tumblr
Something Blue: via Pinterest, Pinterest, Endora Jewellery on Etsy