Decorative cakes have been a part of wedding tradition for centuries. In medieval England, wedding cakes were simple wheat based biscuits or scones. Guest would bring one small bridal cake to the wedding and piled them on top of each other in front of the bride and groom. The bride and groom then had to kiss across the top of the piled cakes to bring them good luck, prosperity, and fertility in their marriage.
Seventeenth century French bakers, influenced by the medieval English tradition, began to separate the layers of biscuits using short lengths of broom sticks. To prevent the cake from drying out, the bakers would frost the outsides with lard that would be pulled off prior to serving. Years later, to improve the taste of the lard, sugar was added and the lard was left on the cake as a form of decorative icing. These cakes began to resembled the more familiar wedding cakes which are used to today.
Although wedding cakes are often white there has been a trend to move away from tradition and the wedding cake colour is often chosen to match the colour of the bridesmaids' dress or theme colours. Gone are the days of boring white cakes. Modern wedding cakes are fun, bright and decorative. Not only are modern cakes delicious to eat, they are true works of art!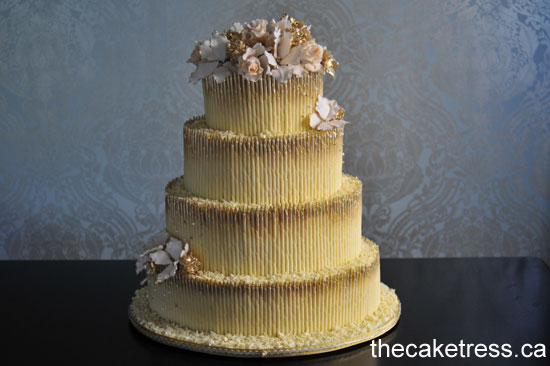 I recently discovered an amazing couture cake designer in Toronto, The Caketress, who designs and executes one-of-a-kind cake creations that can be described best as "edible works of art". The Caketress', Lori Hutchinson, use of fondant, sugar paste and the freshest available ingredients allow her to sculpt her confectionery masterpieces. Click here to visit The Caketress' website and blog to see more of her remarkable work.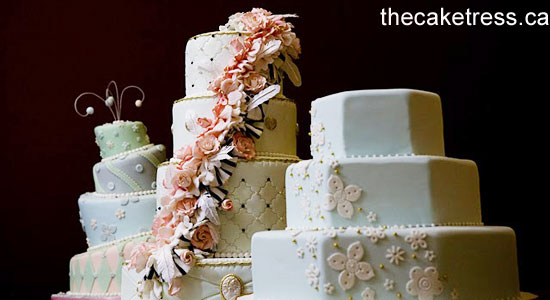 Deciding on a design and style of cake can be tough, so here are a few tips when picking your wedding cake:
Be Inspired – When it comes to the style of your cake, take inspiration from your colour scheme, venue and even details on your wedding dress.
Show and Tell – A good wedding cake designer will ask for as much detail of your big day as possible to help him or her come up with some suitable ideas. Let him or her know what type of flowers you are having, what the style of your dress is, even what the bridesmaids will be wearing.
Consult the Experts – Look for a cake designer who specializes in the style of cake you're looking for.
Try Before You Buy – When choosing your cake designer, ask to see examples of cakes they have already made and be sure to have a taste – it's important that a cake tastes as good as it looks.
Play with Flavours – When it comes to the cake filling, fruit cake is the traditional and old fashioned. Go modern and explore other options such as carrot cake, lemon cake, and, of course, chocolate. You might even decide to have a different flavour for each tier.
Bigger is Often Better – Consider having a cake that's slightly bigger than you need. That way, you can save a slice for guests unable to attend, and enjoy some when you get back from honeymoon. Bear in mind proper steps will have to be followed when storing the cake to ensure it will still taste great a few months after the wedding.
Don't Forget Allergies – Be sure to cater for guests with nut and other allergies. Some cake makers will make nut-free cakes, or you could have a small cake (perhaps a fairy cake) created especially for them. Alternatively, you need to let guests with allergies know if they should avoid the cake.
Don't Forget Transport – Always ask the cake designer whether they will transport and arrange the cake at your venue. Bear in mind that fresh patisserie needs to be made the day before, so it isn't a good idea if you're getting married a long distance from the cake designer.
Modern or Traditional, a wedding cake is a delicious addition to any size wedding. So, select a cake that best suites your wedding style and personal taste- that way have you can have your cake and eat it too!