Pride Month may be coming to an end, but that doesn't mean you can't incorporate it into your wedding all year round. Many lesbian, gay, bi-sexual, transgender and queer (LGBTQ) couples use their wedding to recognize and honour the fight for equality that is still ongoing today. If a full-on ROYGBIV themed bash isn't your style, we've got some subtler suggestions that will be right up your alley.
Dessert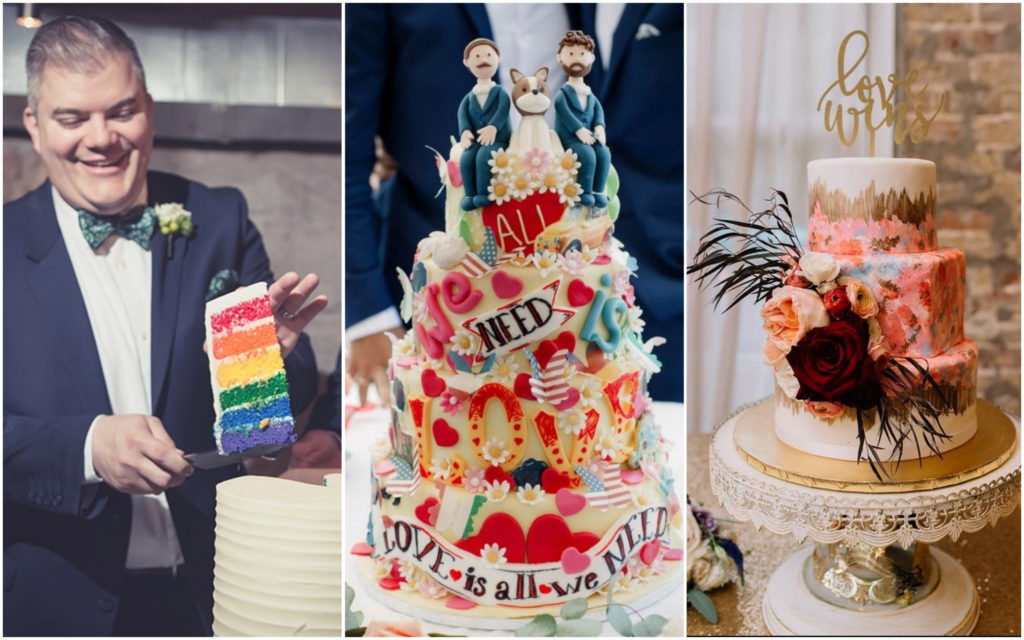 A dessert table is the perfect place to show off your individuality as a couple. If you're looking for something subtle, opt for a rainbow layered surprise when you cut into the cake. For a bolder look, go all out with a statement piece that screams "Love is Love", finished off with a cute custom topper.
Accessories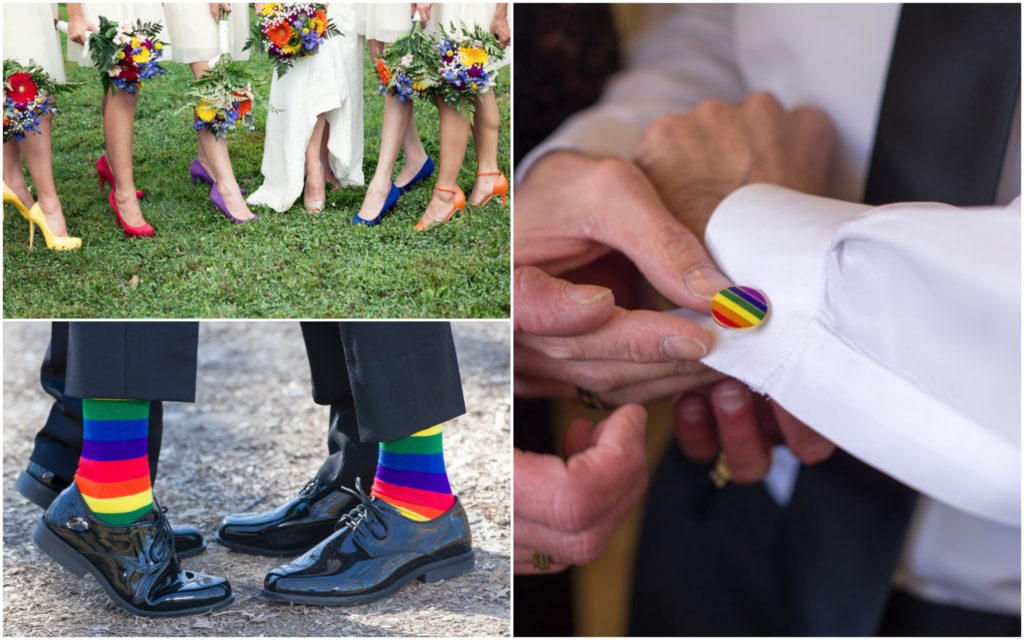 You and your wedding party's wardrobe is a great place to add little nods to Pride. If you're wearing suits, try rainbow cufflinks, socks, or pocket squares. If dresses are more your style, accessorize with rainbow heels, jewelry, or a colourful bouquet. With accessories the possibilities are endless.
Decor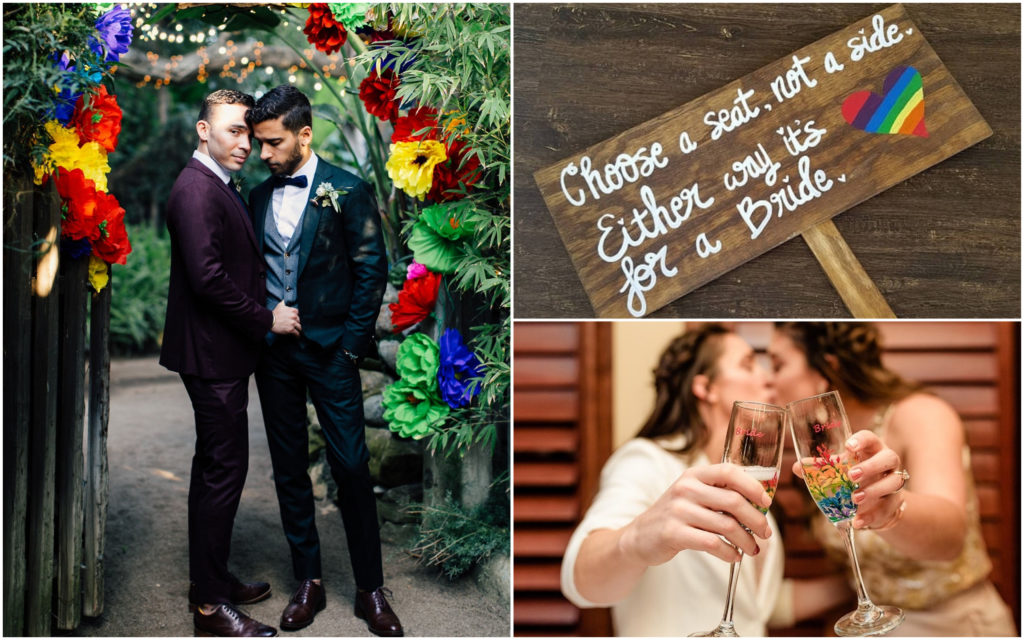 Similar to accessories, decor is a great way to bring in small touches or big bold statements. Consider a tasteful ceremony arch that incorporates the colours of the rainbow or signage that celebrates LGBTQ love. Rainbow inspired florals or centerpieces can also give a pop of Pride fun.
Photography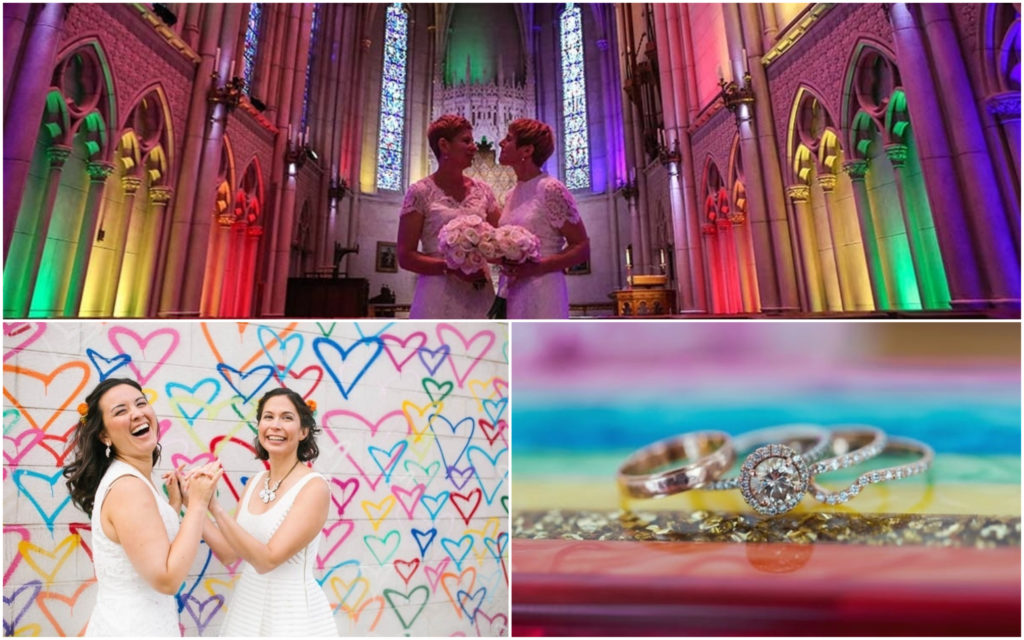 If you've chosen a trendy dark, moody colour palette for your wedding you may struggle to fit rainbows into your decor. Why not take some creative Pride-filled photos instead? Do some scouting with your photographer to find a colourful graffiti wall. Take your engagement photos during Pride month when there are already a lot of great decorations around the city. This way you can share you pride without changing your overall vision for the wedding.
At the end of the day Pride is about a lot more than rainbow flags and  glitter (although we're big fans of both!). The best way to show your Pride is by ditching the wedding rule book and having a celebration that is uniquely you. In lieu of a gift registry, ask guests to donate to your favourite LGBTQ organizations. Use an inclusivity-focused reading in your ceremony like a passage from the Supreme Court ruling that legalized same-sex marriage in the United States. Skip a formal ceremony all together and have a Queer Eye cast member marry you on a Pride parade float! 
xoxo, KEP
Photo Credits
Featured image: D.Lillian Photography via Green Wedding Shoes 
Dessert: Morgan Miller Photography via Equally Wed; Carla Penoncelli via Martha Stewart Weddings; Hi Volt Studios via Equally Wed
Accessories: I Heart My Groom via Bespoke Bride; Mak Rabbitt Photography via Equally Wed
Decor: D.Lillian Photography via Green Wedding Shoes; The Peculiar Pelican via Etsy; Alex Dugan Photography via Equally Wed
Photography: Misti Layne Photography via Equally Wed; Amy Gray Photography via Bespoke Bride, Clean Plate Pictures