Some couples may find the idea of a destination wedding intimidating, but it is a great option for those of you who want to think of your wedding as a vacation.  A Destination wedding can also be a lifesaver if you are looking to keep your big day on the smaller side.
LOCATION, LOCATION, LOCATION:
Ideally you should pick a destination that has great meaning to you. Whether it be a deserted beach island, country haven or a vacation spot from your childhood select a special place in your heart and consider the following:
Marriage laws It's important to note that some places require residency, a lot of paperwork, or substantial tests before a marriage license is granted. Thoroughly research your destination and its requirements before booking.
Resources People get married everywhere, so there are wedding service providers all over the world however, in very remote areas, you might not be able to find anyone to provide the wedding services you want. Make sure to ask if they are equipped to work with a "long-distance" couple during the planning stages.
Interesting Things to Do and See Presumably you're going to choose a place because you love it or have always wanted to visit. If you're planning to invite guests, keep their needs and interests in mind, too.
Affordability Keep in mind that some locales are more expensive than others. That, and distance, may effect who can come, or how much you have to spend on the wedding once travel costs are accounted for.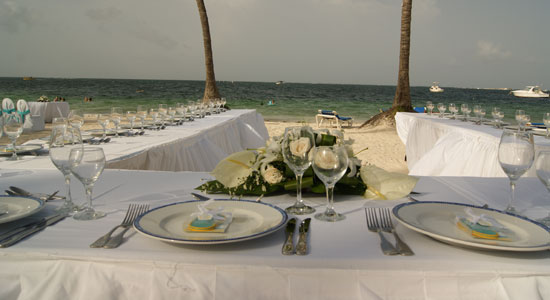 WHO or HOW DO YOU DO PLAN A DESTINATION WEDDING?
Hire A Wedding Planner
One option is to hire a wedding consultant, this might be a consultant that is located in the place where you're getting married, a travel agent, or a planner who has experience in planning destination weddings. In some locales there are wedding consultants whose primary business is working with couples from out-of-town; they are good about faxing, mailing photos, and taking other special steps to help you. There are also consultants who aren't limited to any particular wedding location, but regularly handle destination weddings. They can shoulder the burden of researching, auditioning, and securing local vendors — especially valuable if said vendors speak English only as a second language. She is also the behind-the-scenes queen, creating gift bags for guests, greeting everyone at the airport, keeping people busy with fun activities once there, vetting special requests (babysitters, dry cleaners, etc), and getting everyone where they need to be on time. This is the most-hassle free way to plan a wedding, remember to earmark part of your budget, about 10 percent of the total.
Consult Hospitality Providers
The second option is to find a hotel or inn or bed & breakfast that offers wedding planning services for guests who stay there; they have a salesperson who helps with the planning. If you must hire your vendors sight unseen, ask for a portfolio of pictures and at least three references.
Do It Yourself
A common misconception about planning a destination wedding is the idea that you surrender control when you plan from a distance.  The truth of the matter is that long-distance planning is easier than ever these days thanks to the web.  You may not be able to smell the florist's flowers through the computer but you can still make informed decisions when hiring wedding vendors thanks to interactive websites.  Online you can now find your wedding band, DJ, dress, officiant, limo, photographer, flowers and more. Detailed photos, videos, client reviews and other feedback tools make the process easy and stress-free. This is probably the toughest way to do it, but you get to make all the decisions. If you are hesitant to do all the planning for your destination wedding from a distance then you can always take a quick trip to your chosen location.  You'll need to scout and secure your key venues: church, reception, hotels for guests, rehearsal dinner venue, and local suppliers such as caterers, florists, and photographers. Next (or during a second trip) you'll need to schedule "tastings" with your caterer, see sample bouquets from the florist, plan a hair and makeup session with a salon, and organize activities (golf, tennis, walking tours, museums) for everyone. It can help to check in on things first hand and you can treat the trip like a working vacation.  Just be sure to make time between meetings, fittings and site visits for a little down time at the beach, or spa.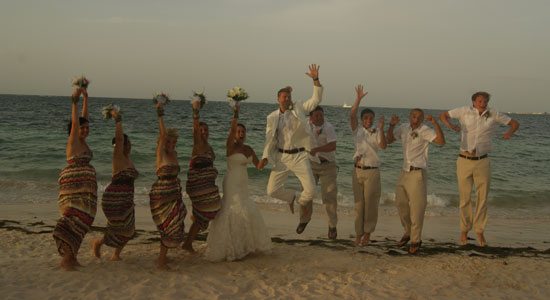 TIPS & TRICKS:
Be Creative: A destination wedding really opens up some possibilities, it allows you the opportunity for a fairy tale wedding or completely avoid the conventional. If your setting is particularly exotic, you may be able to simplify other aspects of your wedding.  Whether you choose to simplify or not, do feel free to rethink some of the typical wedding traditions.
Give A Lot of Notice: Wedding invitations are traditionally sent 6-8 weeks before the event, however for a destination wedding the more notice you provide your guests the better. Your guests may need to ask for vacation time or save extra funs to better enjoy the special place you've chosen! Consider getting in touch with your guests early, a friendly little letter or save the date with pertinent info (place and date) will do nicely. If you've begun to set up accommodations, include that too, along with any other travel info.
Let Some Things Go: Ideally, a destination wedding should be a vacation for you, too. Try not to get caught up in little details that won't allow you to enjoy the special place. Figure out what's important to you, and label the rest of it "small stuff" that you won't sweat. That will free you up to sightsee, relax, play, and join in what your guests are doing!
Plan Your Packing: Get advice from your dressmaker or retailer on how a dress should be packed for travel. Make sure you have the right-sized suitcase or box ahead of time. If you're flying, plan to carry it on, along with any other wedding apparel you'd find hard to replace on short notice! Packing for the wedding and honeymoon added up to a lot of luggage. If you can, fan out some of your important things to guests and family who are traveling down there. If you are shipping anything, leave extra time and make sure to record all tracking numbers.
Welcome Your Guests: Be sure to place a gift basket in each room full of essentials for the trip (suntan lotion, bug spray) and goodies that will remind them of the setting — tour guide books, maps, samples of native food, or crafts from local artisans are all good options.
Don't Over Plan for Your Guests: You've probably gone to a lot of trouble to choose a nice place to get married. Let your guests enjoy it! Don't plan so many get-togethers, family dinners, rehearsal dinners, and so on that your family and friends have no free time. I suggest one group activity followed dinner on one night, a parents' dinner the next night, followed by a night out with friends only.  Your location will do a lot of the entertaining for you–and you should let it!
Plan an "After" Party: When you have a destination wedding, you're probably going to leave a lot of people out. That might be by design, or just an unfortunate circumstance of getting married far away. There are ways to include them. One option is to have a reception at some point after the wedding. You can plan something very much like a traditional wedding reception (formal invitations, cake cutting, dancing, wedding attire) or something more like a party. Remember to bring wedding photos or show a quick video of the ceremony to make everyone feel like they were there.
For more inspiration check out these images of a recent destination wedding in Punta Cana, Dominican Republic.
Happy Planning!