Your bridesmaids (aka besties and lifesavers) are going to be there to witness and experience a great deal of your wedding journey. Likely, they have seen your relationship flourish, been by your side during your successes and helped you through your failures. Your Bride Tribe is a key component of your wedding and asking them to take part in your special day is also an important question to ask! He's popped the question to you, now it's your turn! Take some inspiration from these adorable ways to ask your closest friends to be part of your bridal party!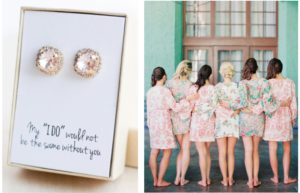 Say It With A Gift To Look Forward To The Wedding!
Give them a little somthin' somethin' to show them how appreciated they are and how much you need them by your side on your wedding day! Matching necklaces or bathrobes are a super adorable idea, and with the intention of them wearing them as you get ready on your wedding day, it'll make for great photos!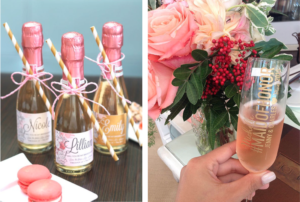 Say It With Drinks!
Anyone who ever said that diamonds are a girls best friend may have been mistaken. Champagne is a girl's best friend! Also, things in smaller bottles are proven to be about 20x cuter than regular sized, so give a little bubbly and have no fear when asking the question!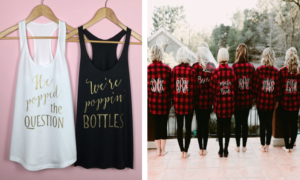 Say It With Customized Tees!
From mani-pedis to the bachelorette party, you're going to get extremely close (closer that you already are – if that's even possible) with this group of people! Show the world that you're all in it together by giving them matching Bride Tribe shirts!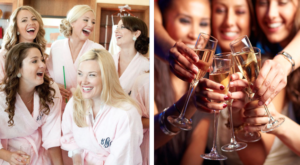 Say It With A Much Needed Outing!
We get it, after a long week at work, you're all tired and sometimes, hanging out falls to the wayside. Plan a day to hang-out and do something fun like going to a concert, the spa, shopping or even a yummy brunch. As your girls start to relax, bestow upon them your highest wedding honour… their answer will always be yes!
Cheers to creating your Bride Tribe!
Photos Courtesy of: 
Gifts: For The Maids; Michelle March Photography
Drinks: Paper + Lace, Joie Labels; LetsTieTheKnot Etsy Shop
Tees: TrexAndUnicorn Etsy Shop; Pinterest
Outing: Omni Hotels; Google