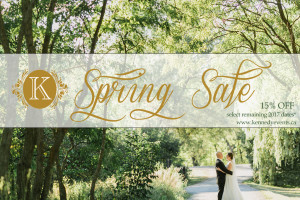 Getting Married this Spring? Let's Talk!
Calling all fabulous couples! Do you need a little extra help planning the final details of your upcoming wedding? Have everything planned but need help executing it on the day? We have a handful of open dates available for 2017 and would love to work with you!
We are offering an exclusive 15% OFF our planning packages for any new couples who book our services for their upcoming Spring 2017* wedding.
Curious as to why you should consider a planner? Check out our blog posts: "Why Hire a Planner?", "The Difference a Planner Makes", "You've Got the Ring, Now Get the Planner" to learn more about how we can help.
Let do this! Email us at info@kennedyevents.ca to receive our 2017 Planning Pricing Package and set up your complimentary consultation. We are so excited to meet you!
*Offer valid May 1 to June 30, 2017. Some conditions may apply. Not valid with any other offer. Contact us for further details.